Free rooms
U kopyta" boarding house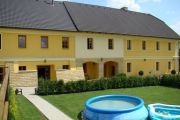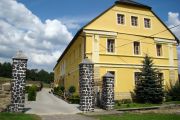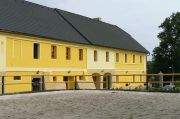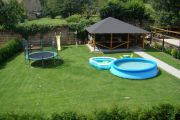 The location of the boarding house in a beautiful and calm village allows both a family recreation, sports concentration training, company outdoor events and parties or banquettes.
The "U kopyta" boarding house is located at the edge of Pavlíčky municipality, which lies in the northern part of the Protected Landscape Zone of Kokořín, between Tuháň and Dubá municipalities, 13 km of Máchovo Lake.
The original building served for agricultural purposes At present, it is used as a boarding house, enjoyed mainly for summer family recreation. For the rest of the year, we organize language courses here, company celebrations, fitness courses and so on.
The boarding house has now a capacity of up to 20 beds and offers its guests the following services :
accommodation in 2 – 4-bed rooms with own bathrooms, TV
dining room and a lobby with a bar and a billiard
closed-area parking on the yard of the boarding house
spacious summer-house with grilling area
children corner
kitchenette
This year, we gradually extend our facilities with
a games room with a ping-pong table, fitness machines, library
The service highly in demand is roasting meat delicacies (piglets, turkeys…) on an outdoor grill while holding celebrations or various meetings. The location of the boarding house is appreciated by those who seek peace and privacy.
Looking forward to your visit we wish a nice stay.
Penzion "U kopyta"
- Pavlíčky 15, 472 01 Doksy, Czech republic
tel.: +420 487 870 127, +420 604 105 456, +420 604 215 060, e-mail: ukopyta
@
seznam.cz